Keep Stick 32
£69.00 £85.00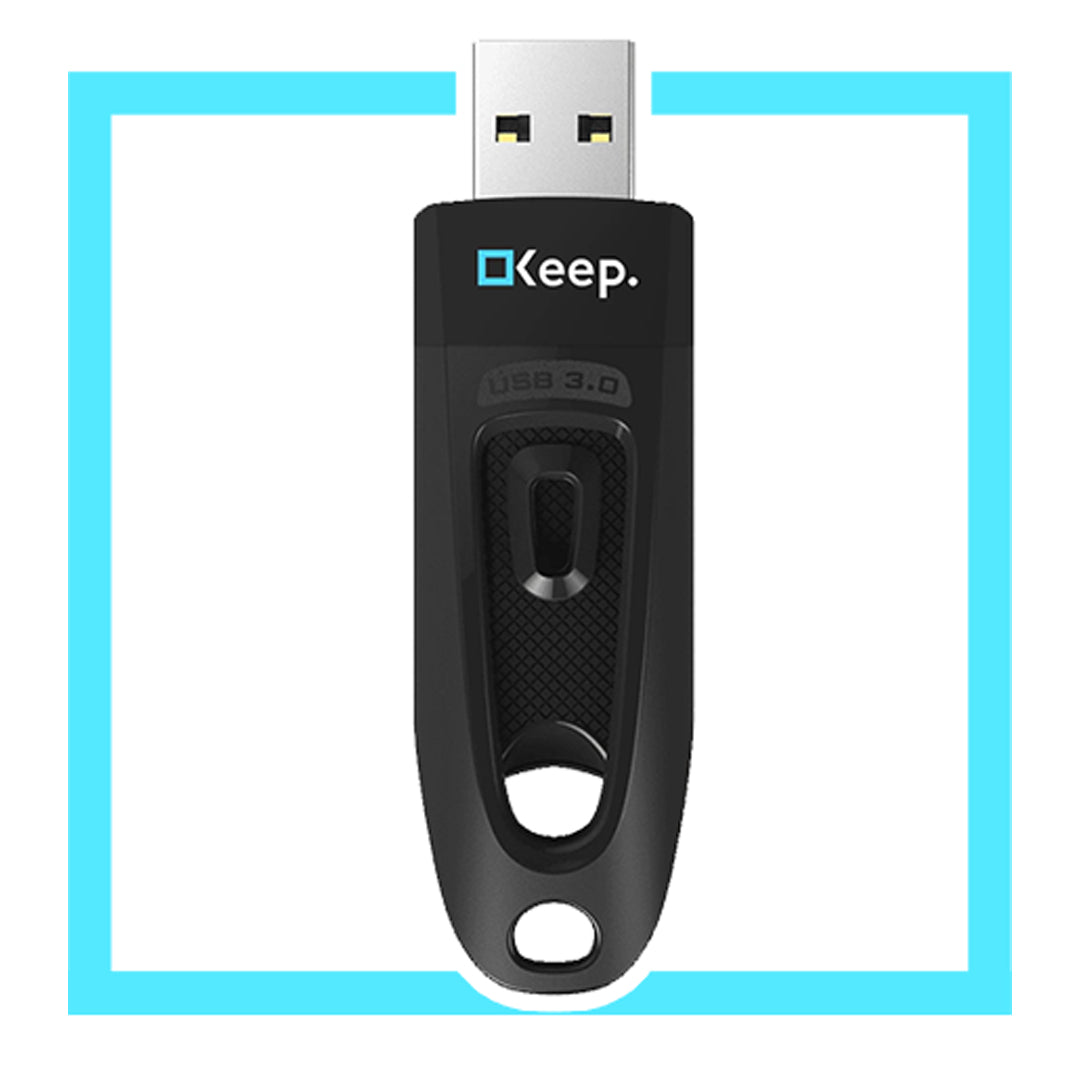 Keep Stick is our flagship portable private operating system on a USB stick that creates a connected, yet confidential, secure computer when used with any PC. Your Keep Stick comes pre-configured with the following security features and connected Keep secure services.
Private secure VPN internet connection for 1 year

End to end encrypted email service for 1 year

Secure Bitcoin wallet

Regular security and feature updates

Comprehensive data and file encryption

Robust virus protection

Independent operation from the host computer OS

Leaves no activity trace on your Windows PC


Portable, plug and play simplicity with Windows easy boot utility
Scroll down to see detailed technical specifications below. Please check with customer support for Mac compatibility.
When you order a Keep Stick we send you a Keep USB stick via post and an Activation Key code via email. When you receive your stick you enter the code as part of the built in secure activation process to create your personal encrypted account on the stick. This process also automatically sets up your connected VPN and personal encrypted email services. Please contact us at customersupport@keepstick.com if you do not receive your Activation Key within 24 hours of making your purchase.
The connected services included with your Keep Stick are:
The Keep VPN, which encrypts your local internet connection, protecting you from WiFi snooping and shielding your activities from the internet service provider.
A Keep email account, with an address of your choice, and a personal private/public encryption key pair for sending and receiving PGP end-to-end encrypted emails. It's easy to exchange public keys with other Keep users.


The Keep software update service, which downloads updates to your stick for product enhancements and security updates.
Don't worry if after one year you do not re-subscribe to our connected services, your Keep Stick will continue to function without using Keep's VPN and Email services. Your stick will continue to receive any available security updates.
Tech Specs

---
Keep Stick 32

USB Stick
SanDisk Ultra USB 3.0 Flash Drive
Capacity
32GB (18GB encrypted user storage available)
Interface
USB 3.0
Operating System
Keep Stick is built using Linux Ubuntu 18.04 LTS (Open Source)
PC & Mac Compatibility

At least one spare USB2.0 or USB3.0 port & 4GB Ram required.


Windows 7, Windows 8.1, Windows 10 or Windows 11 recommended for easy booting.

For Mac compatibility check with customer support.

Dimensions
56.1 x 21.6 x 10.4 mm
Sequential Read Performance
Up to 100MB/s

Keep Stick Software

Keep Windows App
Enables easy booting without BIOS changes on Windows PCs. Works with Secure Boot enabled
Keep Activation App
Step by step activation of new user account on Keep Stick. Automatically sets up VPN, personal encrypted email, public/private key pair and password encrypted storage
Keep Update App
Automatically checks and installs security updates and new features from Keep. All other installs are blocked for protection 
Keep Desktop
Easy access to all main apps and features

Keep Services (1 year included)

Keep VPN
Secures all internet traffic to/from Keep Stick with OpenVPN 256 bit AES encryption
Keep Email
Personal PGP encrypted email service and easy public key sharing via the Keep Stick address book
Keep Updates
Regular security and application updates to Keep Stick. (On-going even if services not renewed)

Open Source Applications (included)

Web
Secure web browser with curated privacy extensions (Firefox ESR & Startpage)
Email
Encrypted email using GnuPG (Thunderbird & Enigmail)
Office
Microsoft compatible office suite (Libre Office)
Photo
Photo editor (gThumb)
Music
Music player (Rhythmbox)
Video
Video player (VLC)
Bitcoin Wallet
Electrum Bitcoin Wallet
Backup
Password protected auto backup to other USB stick, network or cloud (Ubuntu)